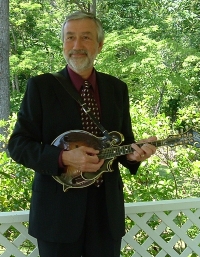 Furman Boyce
Furman Boyce began his professional career as a young teenager. Furman plays lead guitar and mandolin.
He is a nationally known singer and song writer. Furman has performed with numerous artists including
Bill Monroe, Charlie Moore, Bill Napier and Carl Story. Furman is regarded as one of the
best instrumentalists in the business.

His credits include: #1 national air play artist for Atteiram Records for three years in succession.

His original songs in the national charts include: Mama's Song, Make Me Your Little Child Again,
Standing On The Rock, That Same Spirit, and many more.

Named Best of the Best by the NBMGA.

Furman has performed at Bluegrass festivals, concerts, fairs, conventions, church's and town and community events. He has also appeared as a special guest on WSM Midnight Jamboree in Nashville, TN.
---
Furman's Testimony -
'I knew at the age of 5 that the Lord had a calling on my life. At that time I thought it was to preach however, a little later in life I realized that it was to use the gift of music that He had blessed me with. I always feel good when I minister and uplift the Lord in song. I am a member of the First Church of the Nazarene, however, I worship with all different denominations every weekend across the country. Souls are in the fields ripening and ready for the harvest. I am privileged to be part of the Lords army and I pray that He will use me everyday to help reach souls for His Kingdom.'